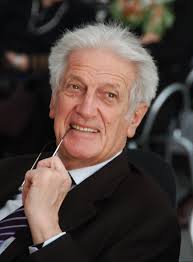 Dear ESH members,
Professor Alberto Zanchetti, MD, Past-President and honorary member of our Society passed away in Milan on March 24th.  The hypertension community is a distinct community of long-standing scientific collaboration and friendship. It has lost an extraordinary man, outstanding scientist, colleague and mentor and we mourn his passing.
Alberto Zanchetti defined himself as the "obstetrician" of the ESH. Together with his colleagues, in 1978 he initiated a series of European Hypertension Meetings in Milan. The need for a European Society of Hypertension (ESH) was demonstrated, among other factors, by the success of the Milan Meetings. Thus, in 1989 the European Society of Hypertension was founded. Alberto Zanchetti  was strongly committed to the European Society of Hypertension and was elected as its 3rd President for the term 1993 -1995 and served on its Council for many years. He served on the Writing Committee of the 2003, 2007, and 2013 European Society of Hypertension-European Society of Cardiology Guidelines for the Management of Hypertension and was on the Task Force for the upcoming 2018 Guidelines.
For the last 23 years Alberto Zanchetti was Editor-in-Chief of Journal of Hypertension. He invested enormous time and effort in the Journal, encouraging its growth and quality and contributing importantly to its success.
Alberto Zanchetti has been one of the most outstanding researchers and teachers in the field of hypertension in Europe for the past 40 years. Those who knew him were always awed by his energy, knowledge, and ability to translate science into clinical practice. He was a remarkable mentor and supervisor of many students and research fellows.
He was the vanguard of new drug research for many years and his research interests focused on pathophysiology, clinical pharmacology and therapy of arterial hypertension and associated cardiovascular and renal diseases.
He was coordinator and member of the Steering Committee of a number of randomized clinical trials, HOT, SCOPE, EWPHE, SystEur, ELSA, PHYLLIS, CONVINCE, VALUE, FEVER, and member of the DSMB of IPSSH and SENIORS.
His legacy will live on through the Alberto Zanchetti Life Achievement Award, conferred each year during the Annual Meeting to a scientist with a life-long high quality scientific research in the field of hypertension. In addition, ESH will continue his work by conducting the ongoing ESH-CHL-SHOT study initiated by him.
His wisdom, his passion and enthusiasm for medical research, and his friendship will be sadly missed by the international community of hypertension.
Konstantinos Tsioufis
President

Reinhold Kreutz
Secretary
On behalf of the Scientific Council of ESH